What is Injection Seamless Virgin Tape In Hair Extensions?
Our Injection Tape Hair Extensions are produced using the highest quality 100%  human Remy hair.   Injection Tape Hair is specifically designed to be discreet in your own natural hair, from the injection process that mimics the root and hair growth to the coloured backing of the tape hair that changes from dark to light colours.
Injected tape hair is an extension of the product based on the customer's pursuit of invisible, an extremely cost-effective hair product to gain natural skin looking, and without knots.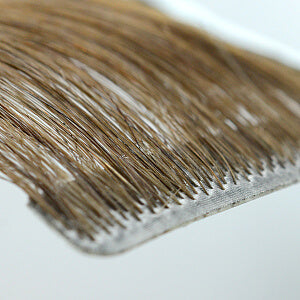 HAIR TYPE:
Injection Tape in hair extensions, 100% remy human hair from a young person
HAIR TEXTURE:
 100% pure virgin hair from south of China.
TAPE SIZE:
0.8cm x 4cm

Tech: 

Upgrade tech since 2018, injection strip bond, but it be made by machine, use the machine to injected hair into the pu

HAIR WEIGHT:
5/10 pieces per package (2.5g per piece)
RECOMMENDED QUANTITY:
4 pack - balayage/highlight effect, or more volume
8-12 packs -for long thick hair, want more volume
16 packs - for short hair, want long & volume effect
Use time:
6-12 months

The advantage of injection-moulded tape extensions

Mimics root growth to give elegance invisible skin looking.
Thinner than ordinary tape hair, close to the human skin.
Allow applying same as the common tape hair extensions
It is new and rare in the hair extensions tech, good chance to sell.
Re-tape, reusable, create maximum impact.
Great value, and cheap price than the hand-tied skin tape hair.
One of the best choice for extensionists.
Allow applying the same as the common tape hair extensions.
Disadvantage
Same production time with the hand-tied tape hair, injection tape hair need to take time to make it.
As it is a new product, the hair distributors need to develop the market.
This type of injection cost more expensive, but value for money.
exquisite craftwork takes the time. This type of injection cost more expensive, value for money.
THE WEARING SKILLS OF TAPE IN HAIR, SIMPLE AND FAST

1.Use the comb to pick up a thin slice of natural hair as wide as your tape extensions.
2.Press the natural hair downward into the tape leaving 1 inch-2 inch space between the scalp and the extension.
3.Peel away the second tape and place this piece directly over the first, sandwiching the natural hair in between and seal the tape with a flat iron for maximum adherence.
4.Repeat for a full head
FAQ
Q1. What type of hair care products should I use?

 
A: Treat this hair just as if it was your own hair.
1, Use a good quality shampoo and hair conditioner to care the hair. It's important to keep the hair soft and shiny.
2, you could use gel or spray styling products to keep the hairstyle.
3, Olive oil will be a good choice to keep the hair healthy.
Q2. Why are my hair extensions getting tangled? 
A: It could be caused by dry hair. Pls make sure to wash & condition your hair at least once a week, twice a week is better. Comb the hair from time to time. You could go to your stylist for further suggestions.

Q3. How long does it last? 
A: How long the hair lasts depends on how you maintain it. Treat it like your own hair and take very good care of it, and then normally it could last longer than 1 year.

Q4: Why the colours of hair extensions don`t seem exactly as the pictures show or description says?
A: Different monitor has different displays. The same colour number may have a little colour difference. You could dye the Brazilian virgin hair if you need different colour.

Q5: Can they be straightened, curled?
A: Yes you could use hair straightener or hair curler to style the Brazilian virgin hair. However, don't do it too frequently, or the heat will make the hair easily get dry and tangled.

Q6: Can I dye/colour the hair?
A. Yes. The hair can be coloured. As a general rule, it is easier to darken the hair than to lighten the hair. We recommend dyeing darker since it is difficult for the original colour to fade. Improper dying will ruin the hair. We highly recommend your hairdresser dye the Brazilian virgin hair. Colouring by yourself will take a risk of not coming out the shade you want. If you can't get to a salon, please always use good quality products and test a small sample first.
Q7:Don't know how to choose a colour
A: Color matching and customization are available, you can send us the product requirement and photos of your hair and we will reply to you within 24 hours

 You may also like:
---