Everything You Need to Know About Tape-In Extensions
Switching up your hair to a longer, fuller, more voluminous style is fun. One of the best (most non-committal) ways to achieve a major hair makeover is experimenting with extensions. Your hairstyle options are practically endless when it comes to extensions—they give you even more freedom to rock unexpected cuts and colours. Trust, once you look in the mirror, you'll feel like a whole new woman. This is coming from a reformed extensions addict—I hid my natural hair underneath extensions for two years straight at one point in time.
There are a few different types of extensions you can get. One option is sewn-in extensions that are applied with a needle and can last up to three months. If you're going for a one-night type of hair vibe, clip-in extensions are an easy, non-adhesive option that allows you to clip them in and out of your natural hair. But let's talk about the happy medium of the crew: tape-in extensions.
First,You can click here to see our tape ins.
Youngsee tape in hair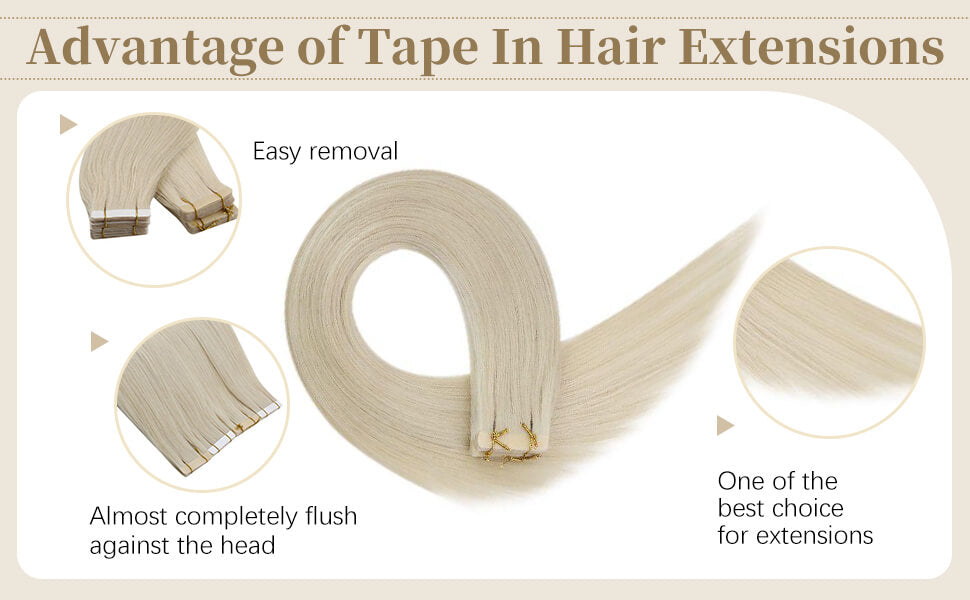 Highly recommended tape in hair extensions

1.Blonde tape in hair extensions (#60,#18/613,#19A/60,#1000)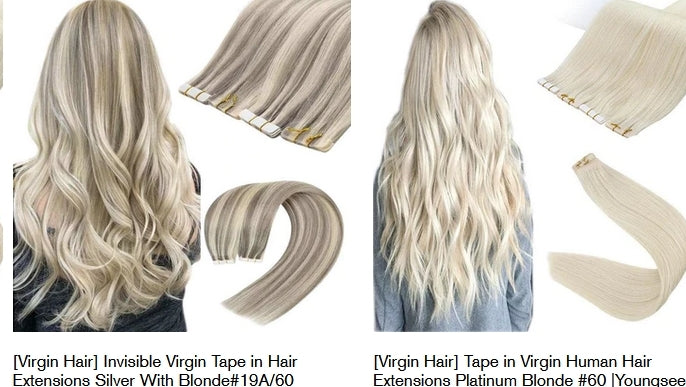 Clik to view :https://youngsee.shop/collections/virgin-hair
2.Black and brown tape in hair(#1,#2,#4,#4/27/4,#1B)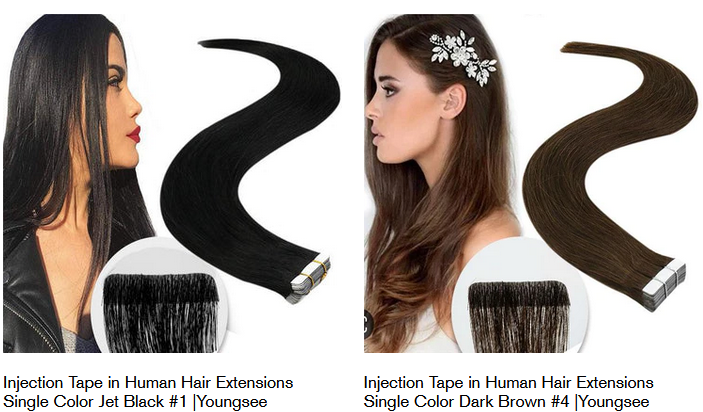 Clik to view :https://youngsee.shop/collections/injection-tape-in-hair
3.Highlight tape in hair (#18/613,#Ba8/60)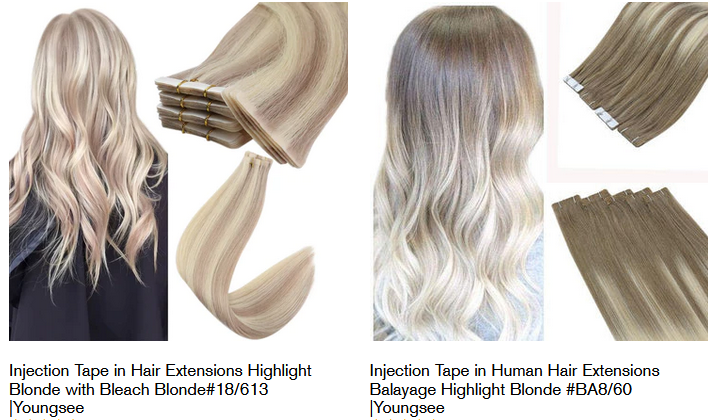 Clik to view :https://youngsee.shop/collections/injection-tape-in-hair/products/injection-tape-in-hair-extensions-highlight-ash-blonde-with-bleach-blonde-18-613
 4.Balayage tape in hair (#4/27/4,#3/8/22)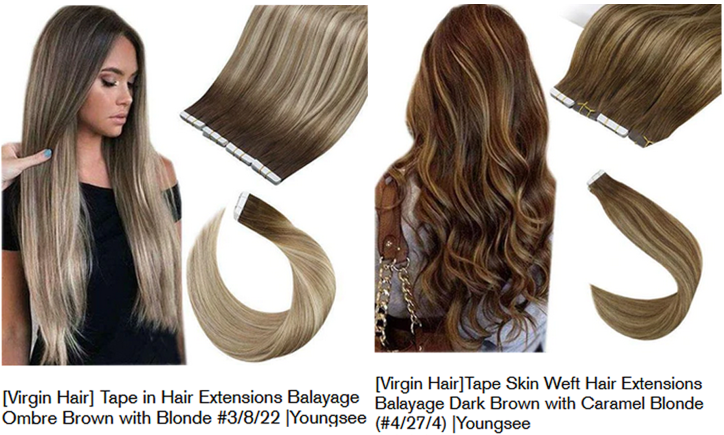 Clik to view :https://youngsee.shop/collections/virgin-hair/products/virgin-hair-tape-in-human-hair-extensions-balayage-3-8-22
Why They're So Cool
 "They are incredibly easy to apply and remove, don't damage your hair, and look more natural because they lie almost completely flush against the head, whereas other types have thicker bases that stick out."
Tape-ins brought the average time for getting extensions down from several hours to as little as 30 minutes," says Porter. "Tape-in extensions allow for easy removal, the ability to reuse the hair, and the ability to maximize placement options giving the client a more natural, clean look. 
Tape-ins are a newer method of applying hair extensions, in which an adhesive tape is used to attach the extension to the natural hair. It is quickly becoming a very popular way of thickening and lengthening your client's hair.

Tape-ins are sold in wefts instead of individual strands. Each weft is 1 ½" wide and has the same amount of hair as 3-4 keratin strands. Since the hair is spread evenly on the weft, each piece fills in fine/thin hair without looking stringy. When installed correctly, they have a flat, seamless finish.

Tape-in wefts cause less stress on hair than individual strand extensions, which makes them particularly great for thinner, more easily damaged hair. Installation time is also significantly less than fusion or beaded extensions.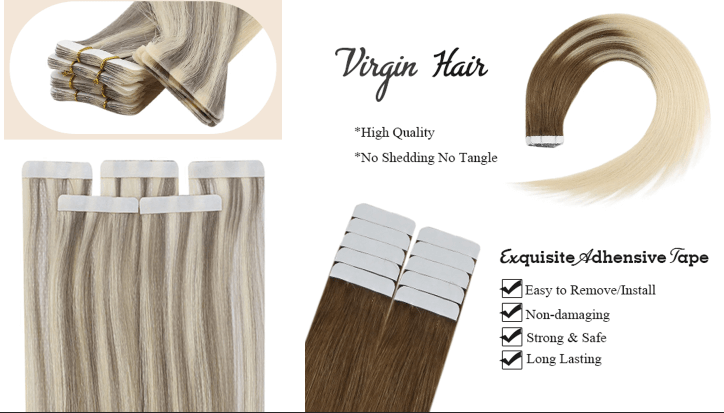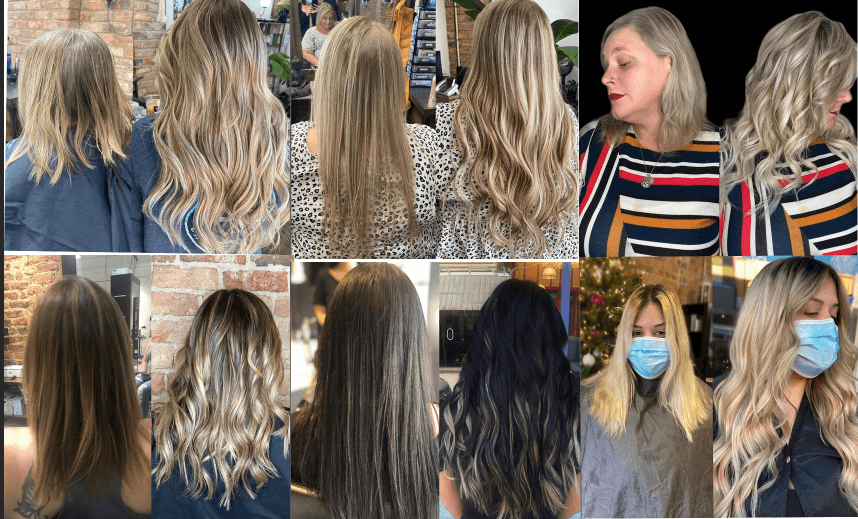 How to Apply for Tape‐In Hair Extensions?
1.Separated with a part of your hair horizontally just about your ears.
2.Make sure a section has been selected.
3.Tape one piece of hair extensions under sectioned hair about 1/4 inch from the scalp,and peel  tape cover off.
4.Use comb through the tape area and make sure it is flat.
5.Take a second tape hair piece strip and press it firmly towards the under pieces.
6.Apply pressure with fingers for 5 - 10s to secure two tape wefts hold together.
How to take care Tape‐In Hair Extensions?
How long do tape-in hair extensions last?
Although it's an easier method than some of the others, it's best to have a professional stylist install and move them up.
In addition, Youngseehair virgin seamless tapes ins hair extensions can last 6-12 months, with higher quality and more natural
Removing Tape-In Extensions
Just as important as installing the hair is removing it properly to avoid damage. Move-ups are more time consuming than the actual installation since you must clarify and re-tape before installation. We recommend having two appointments each time you move hair up. One to remove, and one to reinstall. You can also have 2 sets of extensions. Re-taping of the newly removed hair can be done when there is spare time. With 2 sets the removal and installation can be done in one appointment.
Use a clear oil tape-in bond remover (not a keratin bond remover).

Use a Tape-In Hair Extension Placement Card to hold your extensions and remember where the wefts go.

Wash and clarify, don't condition.

With clean hands, use

 

replacement tape

 

to re-apply the extensions.
You may also like:
---