Youngsee Hair
Micro Ring Remy Human Hair Extensions Pure Color Jet Black#1
HAIR TYPE: Micro Ring/Loop hair extensions, 100% Remy human hair
HAIR SETTING: Can be curled, straightened, washed, and cut.
HAIR TEXTURE: Natural straight, and have a natural wave when wet or left to air dry or diffused.
HAIR WEIGHT:1g/strand
RECOMMENDED QUANTITY:
1 pack(50g) - balayage/highlight effect, or more volume
2-3 packs - for long thick hair, want more volume
4 packs - for short hair, want long & volume effect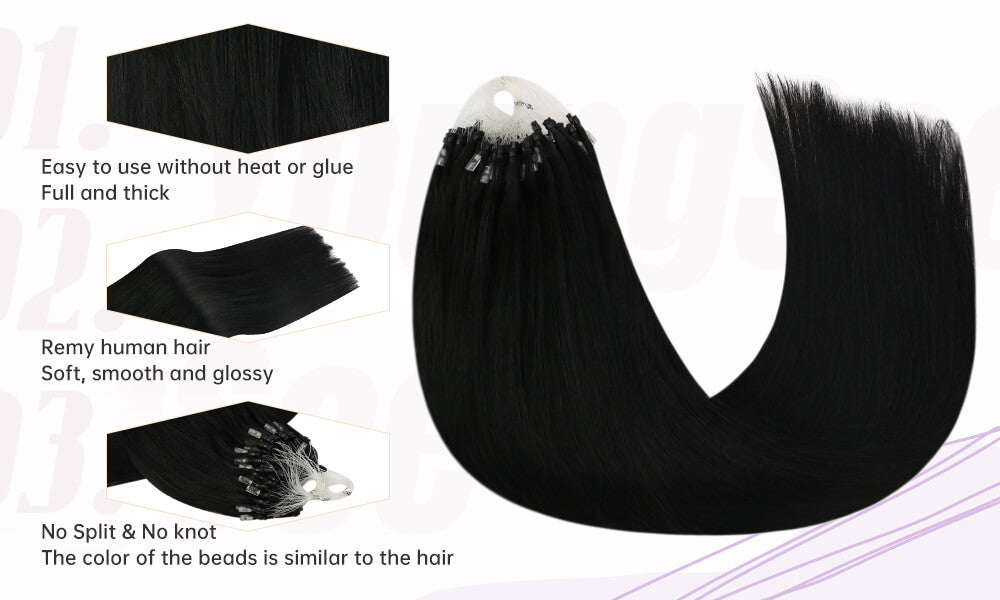 1. Wash and conditioner your hair every 2 to 3 days. Don't wash hair right away
within 48 hours after you attach the hair extensions.
2. Normal hair products are ok for washing hair. Don't put hair products on
the attachment area where the hair is attached.
3. Avoid using heating tools frequently to protect the hair cuticle.
4. Never put a heating tool near the attachment area. Because it may melt the
tip bond, leading to falling out.
5. Tie hair in a bun when swimming, sleeping or doing exercise.
HOW MANY PIECE TO BUY?
Please note, the longer the hair the thinner, we suggest 2-3 packs for adding volume, 3-4 packs for adding both length and volume.
Why is my hair getting tangled?

Your hair tangle due to dryness, oil & dirt build-up, saltwater, and not combing (wide tooth comb) out your hair daily.
Make sure to wash & condition your hair at least once a week, twice a week is better. Use hydrating drops or consult your stylist for more help.
HOW MANY EXTENSIONS FOR FULL HEAD?

Generally, we recommend 100g-150g for a full head. If you want thicker hair, around 200g will do. In addition, you can also match different hair extensions, such as topper & clip ins &halo hair.
HOW LONG DOES IT TAKE FOR THE SHIPMENT?

Expedited Express Delivery usually takes 3-6 business days, Ordinary Express Delivery (USPS) usually takes 10-15 business days.
DOES HAIR EXTENSIONS DAMAGE YOUR OWN HAIR?

No. Hair extensions won't damage our own Hair if we use proper care and professional installation techniques. there are plenty of alternatives that are great for hair and won't do any harm.
WHAT SHOULD I DO IF I RECEIVE/ORDERTHE WRONG PACK?